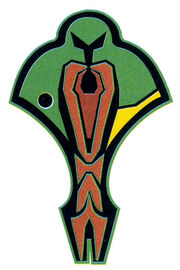 Dralnok was a planet within the Cardassian Union, later taken by the Klingon Empire. A previously unknown chemical substance, designated by the Klingons as Element 604, was discovered on Dralnok. Dralnok was apparently returned to Cardassian control by the end of the Dominion War. (TNG novel: Diplomatic Implausibility)
It is unclear whether the war in which the Klingons took Dralnok was the Klingon invasion of Cardassia in 2372, or the later Dominion War.
Connections
Edit
Ad blocker interference detected!
Wikia is a free-to-use site that makes money from advertising. We have a modified experience for viewers using ad blockers

Wikia is not accessible if you've made further modifications. Remove the custom ad blocker rule(s) and the page will load as expected.