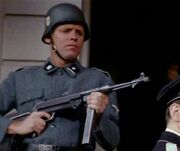 The Ekosian submachine gun was the primary hand-held submachine gun projectile weapon in use on the planet Ekos in the later 2260s decade. Because of a Prime Directive violation by Human scientist John Gill, the design of the MP40 from Earth was used as the planform for these weapons.
While the Ekosians had been somewhat primitive, they had sufficient technology to produce numerous examples of this gun based on the design given to them by Gill. (TOS episode: "Patterns of Force")
Unless Gill gave the Ekosians a broad range of information about actual firearms and industrial materials processes of Earth's 20th century, these guns were probably made in a slightly different manner than the ancient weapons they were based on.
Connections
Edit
Ad blocker interference detected!
Wikia is a free-to-use site that makes money from advertising. We have a modified experience for viewers using ad blockers

Wikia is not accessible if you've made further modifications. Remove the custom ad blocker rule(s) and the page will load as expected.