Ad blocker interference detected!
Wikia is a free-to-use site that makes money from advertising. We have a modified experience for viewers using ad blockers

Wikia is not accessible if you've made further modifications. Remove the custom ad blocker rule(s) and the page will load as expected.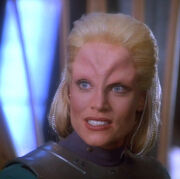 For the mirror universe counterpart, see Elaysian (mirror).
The Elaysians are a humanoid species native to the artificial planet known as Gemworld. Due to the low-gravity environment on the planet, the Elaysians travel around their world by simply floating between various crystalline structures.
Even though Gemworld was a member of the United Federation of Planets by the 24th century, few Elaysians left their homeworld because of the intense gravity which would cause untold pain and discomfort to them. One member who did leave her planet was Melora Pazlar, who was forced to wear a Lieber exoskeleton just so she could operate in a normal gravity environment. (DS9 episode: "Melora"; TNG novel: Gemworld; TTN novel: Taking Wing)
Elias Vaughn once witnessed the assassination of an Elaysian governor. (DS9 novel: Avatar, Book One)
Connections
Edit