Ad blocker interference detected!
Wikia is a free-to-use site that makes money from advertising. We have a modified experience for viewers using ad blockers

Wikia is not accessible if you've made further modifications. Remove the custom ad blocker rule(s) and the page will load as expected.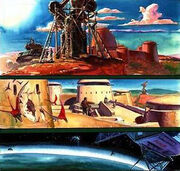 Elkauron II is the second planet in the Elkauron system, a desert planet, it is the location of a major Klingon colony near Gorn space.
A series of defense and scanning satellites have been put in orbit, although not much faith has actually been put into them. (TNG comic: "The Gorn Crisis")