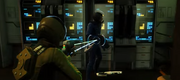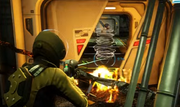 The Engineer transport tool (ETT) was a rifle shaped piece of transporter technology invented by Montgomery Scott. It allowed the user to tag and transport a targeted object or person from one site to another. It could also be used to destroy drones.
While attempting to get around obstacles in destroyed sections of the frontier starbase, James T. Kirk and Spock used the tool extensively. They also used it to access successive levels of the relay tower. (TOS video game: Star Trek)
Ad blocker interference detected!
Wikia is a free-to-use site that makes money from advertising. We have a modified experience for viewers using ad blockers

Wikia is not accessible if you've made further modifications. Remove the custom ad blocker rule(s) and the page will load as expected.