For other uses, see Adhara.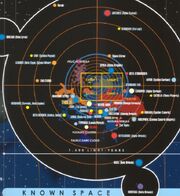 Adhara (also known as Adara, Epsilon Canis Majoris or Epsilon Canaris) is a binary star system, visible from Sol in the Canis Major constellation, located in Federation space and orbited by ten planets. (ST reference: Maps)
Specifics
Edit
This system was in the general vicinity of Betelgeuse and the Novoe Petrograd system. (FASA RPG module: Trader Captains and Merchant Princes )
Epsilon Canaris III was home to a humanoid civilization which were undergoing a planetary conflict for much of the 23rd century. Thankfully, the conflict was eventually resolved through the mediation of Ambassador Alexandra Tremontaine. (TOS episode: "Metamorphosis"; TOS - Crucible novel: The Fire and the Rose)
By the 23rd century, Humans had also established a scientific colony on the planet Adhara. (FASA RPG module: The Federation)
Epsilon Canaris (primary)

Epsilon Canaris I
Epsilon Canaris II
Appendices
Edit
Connections
Edit
External links
Edit
Ad blocker interference detected!
Wikia is a free-to-use site that makes money from advertising. We have a modified experience for viewers using ad blockers

Wikia is not accessible if you've made further modifications. Remove the custom ad blocker rule(s) and the page will load as expected.