Ad blocker interference detected!
Wikia is a free-to-use site that makes money from advertising. We have a modified experience for viewers using ad blockers

Wikia is not accessible if you've made further modifications. Remove the custom ad blocker rule(s) and the page will load as expected.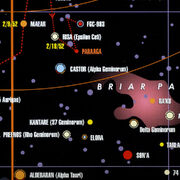 Epsilon Ceti was a trinary star system containing three F class stars. The system is situated in the Beta Quadrant, relatively near Mazar, Paraaga, Castor, and FGC-983, in a sector on the Alpha/Beta Quadrant border. The system contained at least two planets, in orbit of the B star, the second of which was the popular tourist destination, Risa. The system was also adjacent to a major space lane, running out of Beta Rigel. (ST reference: Star Charts)
Appendices
Edit
Star Charts places Epsilon Ceti between 40 and 50 lightyears out from Earth relative to the galactic plane; as the charts are a two dimensional representation of three dimensional space this still gives leeway to the real world location of Epsilon Ceti, which is 88 lightyears from Earth[1]. Star Charts also appears to mark the system in the same sector as the Briar Patch, which Star Trek: Insurrection gives as Sector 441, however, similarly, due to the two-dimensional nature of the Star Charts, the two locations may only be in the same stack of sectors rather than the same sector.
Continuity
Edit
There are conflicting sources on the location of Risa: While Star Charts places it in this system, the SCE eBook: Paradise Interrupted has the planet situated in the Alpha Quadrant, as does the Decipher RPG module: Worlds, which also states that the planet is third in the Granicus binary star system, near the Cardassian Union.
Connections
Edit