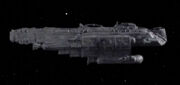 The Erstwhile was an interplanetary cargo vessel owned and operated by Thadiun Okona.
History and specifications
Edit
The Erstwhile was armed with lasers. In the year 2365, the Erstwhile's guidance system burned out and would have to be rescued by the Federation starship USS Enterprise-D. (TNG episode: "The Outrageous Okona")
Appendices
Edit
References
Edit
External link
Edit
Ad blocker interference detected!
Wikia is a free-to-use site that makes money from advertising. We have a modified experience for viewers using ad blockers

Wikia is not accessible if you've made further modifications. Remove the custom ad blocker rule(s) and the page will load as expected.