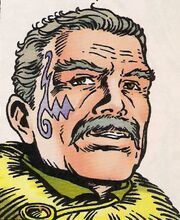 Etashnan was a Rigellian male and the Minister of Rigel VII in 2254. He had an aide named Talza. (EV comic: "Our Dearest Blood")
It is not clear whether or not Etashnan was involved in the Kaylar uprising on Rigel VII; the conspiracy did reach at least as high as Talza and sections of the Rigellian government so it is not impossible but equally not necessarily the case.
Ad blocker interference detected!
Wikia is a free-to-use site that makes money from advertising. We have a modified experience for viewers using ad blockers

Wikia is not accessible if you've made further modifications. Remove the custom ad blocker rule(s) and the page will load as expected.