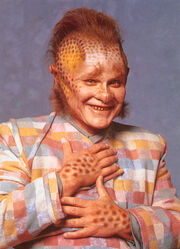 Ethan Phillips is an actor who played several roles in the Star Trek franchise, most notably the role of Neelix on Star Trek: Voyager. He is also the author of the Star Trek reference book Star Trek Cookbook.
His father was the owner of the famous New York steak house Frankie and Johnnies's, which is said to serve up the most delicious sirloin in all of Manhattan. Ethan acts, writes, cooks, and lives in Los Angeles with his wife, Patty, an artist. (ST reference: Star Trek Cookbook)
In 2014 Phillips reprised the role of Neelix in Star Trek Online: Delta Rising.
External links
Edit
Ad blocker interference detected!
Wikia is a free-to-use site that makes money from advertising. We have a modified experience for viewers using ad blockers

Wikia is not accessible if you've made further modifications. Remove the custom ad blocker rule(s) and the page will load as expected.