Ad blocker interference detected!
Wikia is a free-to-use site that makes money from advertising. We have a modified experience for viewers using ad blockers

Wikia is not accessible if you've made further modifications. Remove the custom ad blocker rule(s) and the page will load as expected.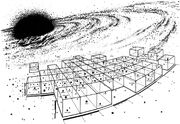 The explored galaxy map was a star chart that demarcated regions of the galaxy that had been explored by the Federation in the 23rd and 24th centuries, viewed at an angle to the galaxy's spiral.
Captain James T. Kirk had this chart displayed in his quarters aboard the USS Enterprise-A. (TOS movie: The Undiscovered Country)
This chart was displayed at Starfleet Headquarters. (TNG episode: "Conspiracy")
Locations
Edit
States and organizations 
Regions 
Aldeberan • Alpha Carinae • Alpha Centuri • Alpha Majoris • Beta Aurigae • Beta Geminorum • Beta Lyrae • Beta Niobe • Beta Portalan • Capella • Deneb • Eminiar • Fabrina • Gamma Trianguli • Ingraham B • Omega Cygni • Orion • Pallas 14 • Phylos • Regulus • Rigel • Sirius • Sol • Talos • Tau Ceti
Planets and planetoids 

Alfa 177 • Altair VI • Andor • Arret • Ariannus • Babel • Benecia • Berengaria VII • Camus II • Canopus III • Daran V • Gamma Canaris N • Holberg 917G • Janus VI • Kzin • Lactra VII • Makus III • Marcos XII • Marnak IV • Memory Alpha • Mudd • Omega IV • Organia • Pollux IV • Psi 2000 • Pyrix VII • Remus • Romulus • Theta III • Vulcan
Appendices
Edit
Appearances
Edit