Ad blocker interference detected!
Wikia is a free-to-use site that makes money from advertising. We have a modified experience for viewers using ad blockers

Wikia is not accessible if you've made further modifications. Remove the custom ad blocker rule(s) and the page will load as expected.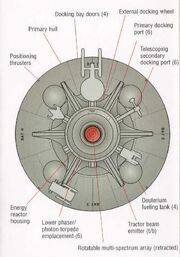 The external docking wheel, also known as the lower docking ring, was the outer structure encircling the secondary hull of Watchtower-class space stations where starships and other vessels could dock. There were six primary docking ports located on pylons that extended out from the wheel, and six telescoping secondary docking ports. (VAN novel: Harbinger)
In 2266, the USS Endeavour docked at one of Starbase 47's external docking ports for shore leave. (VAN novel: Open Secrets)
The docking ports were also known as slips. On July 15 2267, security chief Haniff Jackson, ordered a quick-response team to Slip Four in the lower docking ring as a result of an altercation between two groups of civilians at the airlock. (VAN novel: Precipice)
In late-2268, the SS Linshul departed from Slip Four, transporting the civilian scientists from Operation Vanguard to Regula 1 Space Laboratory in the Mutara sector.
During the evacuation of the station in later in 2268, Jackson ordered deputy Holmgren to lock the docking clamps of Slip Two due to a grand theft starship in progress. (VAN novel: Storming Heaven)
Connections
Edit