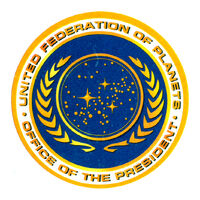 The Federation Cabinet is the collection of individuals within the Federation government who serve as the heads of the various executive departments of the Federation government and as the principle advisors to the President of the United Federation of Planets. The President appoints cabinet members, who are then confirmed by the Federation Council. The cabinet is also said to include some members who are not the heads of executive agencies, but whose access and seniority is equal to that of the heads of executive departments.
Section 31 had a person in Jaresh-Inyo's cabinet working for them. Julian Bashir and Miles O'Brien discovered this in 2375 after finding the information in Luther Sloan's mind. (DS9 episode: "Extreme Measures")
Ad blocker interference detected!
Wikia is a free-to-use site that makes money from advertising. We have a modified experience for viewers using ad blockers

Wikia is not accessible if you've made further modifications. Remove the custom ad blocker rule(s) and the page will load as expected.