Ad blocker interference detected!
Wikia is a free-to-use site that makes money from advertising. We have a modified experience for viewers using ad blockers

Wikia is not accessible if you've made further modifications. Remove the custom ad blocker rule(s) and the page will load as expected.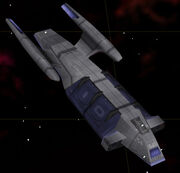 The Federation cargo ships were a type of Starfleet cargo ships in service throughout the Federation in the 24th century.
These freighter transport ships were designed to carry numerous types of cargo between trading stations and ports throughout the Federation and beyond. Although the cargo ships were equipped with strong deflector shields, they had no offensive weaponry, so their quick maneuverability was needed for extraction from hostile situations. (ST video game: Armada II)
Connections
Edit