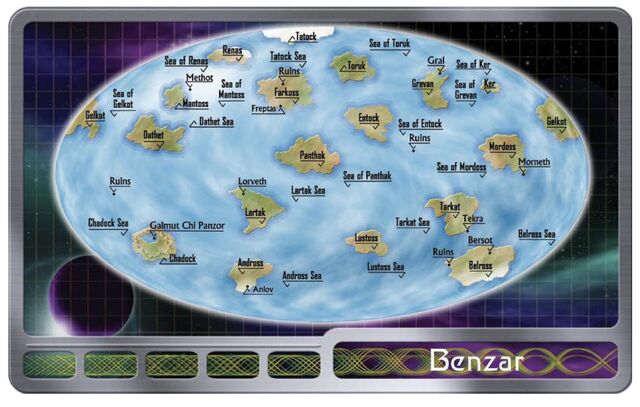 Surface map of planet Benzar. (Decipher RPG module: Worlds)
Credited to artist Blake Beasley.
Locations
Edit
Andross (Anlov) • Andross Sea • Belross (Bepsot • Bepsot River) • Belross Sea • Chandock (Galmut Chi Panzor) • Chadock Sea • Dathet • Entock • Gelkot • Grevan (Gral geostructure) • Farkoss (Freptas) • Ker • Lartak (Lorveth) • Lartak Sea • Lustoss • Lustoss Sea • Mantoss (Methot) • Mordoss (Morneth) • Panthak • Renas • Sea of Entock • Sea of Gelkot • Sea of Grevan • Sea of Ker • Sea of Mantoss • Sea of Mordoss • Sea of Panthak • Sea of Renas • Sea of Toruk • Tarkat • Tarkat Sea (Tekra) • Tatock • Tatock Sea • Toruk
File history
Click on a date/time to view the file as it appeared at that time.
Ad blocker interference detected!
Wikia is a free-to-use site that makes money from advertising. We have a modified experience for viewers using ad blockers

Wikia is not accessible if you've made further modifications. Remove the custom ad blocker rule(s) and the page will load as expected.