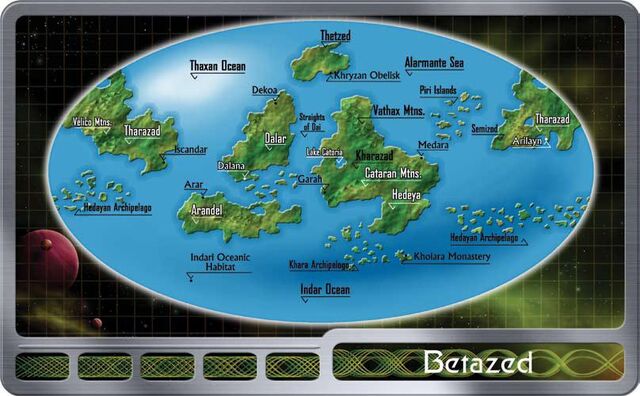 Surface map of planet Betazed. (Decipher RPG module: Worlds)
Credited to artist Blake Beasley.
Locations
Edit
Alarmante Sea • Arandel (Arar) • Dalar (Dalana • Dekoa) • Hedayan Archipelago • Indar Ocean • (Indari Oceanic Habitat) • Khara Archipelago (Kholara Monastery) • Kharazad (Cataran Mountains • Garah • Lake Catoria • Hedeya • Medara • Vathax Mountains) • Piri Islands • Straits of Dai • Tharazad (Arilayn • Iscandar • Semizod • Velico Mountains) • Thaxan Ocean • Thetzed (Khryzan Obelisk)
File history
Click on a date/time to view the file as it appeared at that time.
Ad blocker interference detected!
Wikia is a free-to-use site that makes money from advertising. We have a modified experience for viewers using ad blockers

Wikia is not accessible if you've made further modifications. Remove the custom ad blocker rule(s) and the page will load as expected.