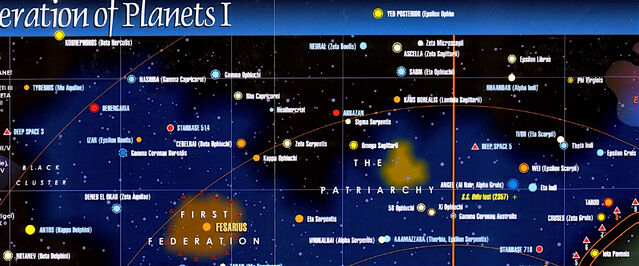 Star chart of the Federation's 24th century periphery, in the direction of the galaxy's core. (ST reference: Star Charts)
Locations
Edit
class A binary • 58 Ophiuchi • Ascella (Zeta Sagittarii) • Black Cluster • Cebelrai (Beta Ophiuchi) • Deneb el Okab (Zeta Aquilae) • Eta Serpentis • Gamma Coronae Australis • Gamma Coronae Borealis • Gamma Ophiuchi • Heathercrist • Kappa Ophiuchi • Kaus Borealis (Lambda Sagittarii) • Kornephoros (Beta Herculis) • Omega Sagittarii • Rho Capricorni • Rotanev (Beta Delphini) • Sabik (Eta Ophiuchi) • Sigma Serpentis • Unukalhai (Alpha Serpentis) • Yed Posterior (Epsilon Ophiuchi) • Xi Ophiuchi • Zeta Microscopii • Zeta Serpentis • Federation systems and outposts: Aaamazzara system (Therbia, Epsilon Serpentis) • Antos (Kappa Delphini) • Arbazan system • Berengaria • Deep Space 3 • Izar (Epsilon Bootis) • Neural (Zeta Bootis) • Starbase 514 • Tyberius (Mu Aquilae) • Zaran (Mu Capricorni) • First Federation: Fesarius system • First Federation buoys • the Patriarchy
Appears on these pages

of
Arbazan is a star with an associated star system, a type M red star located in the space of the...

Beta Delphini (also known as 6 Delphini, Venator or Rotanev) is a star system, a trinary star in...

Beta Herculis (also known as 27 Herculis or Kornephoros) is a star system, a binary star in the...
See full list >
File history
Click on a date/time to view the file as it appeared at that time.
Metadata
Ad blocker interference detected!
Wikia is a free-to-use site that makes money from advertising. We have a modified experience for viewers using ad blockers

Wikia is not accessible if you've made further modifications. Remove the custom ad blocker rule(s) and the page will load as expected.