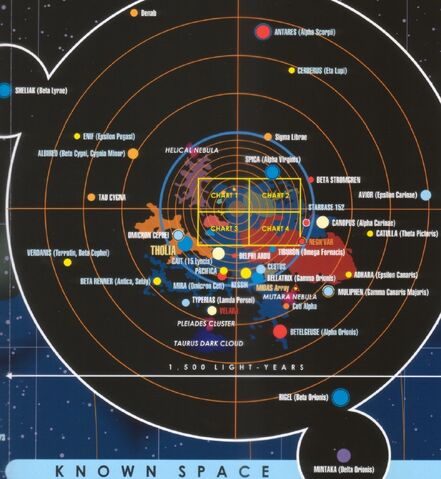 Star chart of known space in the galaxy's Alpha and Beta Quadrants. (ST reference: Star Charts)
Locations
Edit
Albireo/Beta Cygni/Cygnia Minor system • Beta Renner/Antica/Selay system • Breen Confederacy space • Cait/15 Lyncis system • Cardassian Union space • Denab system • Enif/Epsilon Pegasi system • Federation space • Ferengi Alliance space • First Federation space • Helical Nebula • Mira/Omicron Ceti system • Omicron Cephei system • Pacifica system • The Patriarchy space • Pleiades Cluster • Sheliak/Beta Lyrae system • Talarian Republic space • Tau Cygna system • Taurus Dark Cloud • Tholia system • Tholian Assembly space • Typerias/Lambda Persei system • Tzenkethi Coalition space • Velara system • Verdanis/Beta Cephei/Terratin system
Adhara/Epsilon Canaris system • Antares/Alpha Scorpii system • Avior/Epsilon Carinae system • Bellatrix/Gamma Orionis system • Beta Stromgren system • Betelgeuse/Alpha Orionis system • Canopus/Alpha Carinae system • Catulla/Theta Pictoris system • Cerberus/Eta Lupi system • Cestus system • Ceti Alpha system • Delphi Ardu system • Federation space • Gorn Hegemony space • Kessik system • Klingon Empire space • MIDAS Array • Mintaka/Delta Orionis system • Muliphen/Gamma Canaris Majoris system • Mutara Nebula • Negh'Var system • Rigel/Beta Orionis system • Romulan Star Empire space • Sigma Librae system • Spica/Alpha Virginis system • Starbase 152 • Tiburon/Omega Fornacis system
Appears on these pages

of
15 Lyncis, also known as Cait, is a F class white star located in the galaxy's Alpha Quadrant...

Adhara (also known as Adara, Epsilon Canis Majoris or Epsilon Canaris) is a binary star system...

Antares (or Alpha Scorpii) is a binary star system located in the Antares sector of the Beta...
See full list >
File history
Click on a date/time to view the file as it appeared at that time.
Ad blocker interference detected!
Wikia is a free-to-use site that makes money from advertising. We have a modified experience for viewers using ad blockers

Wikia is not accessible if you've made further modifications. Remove the custom ad blocker rule(s) and the page will load as expected.