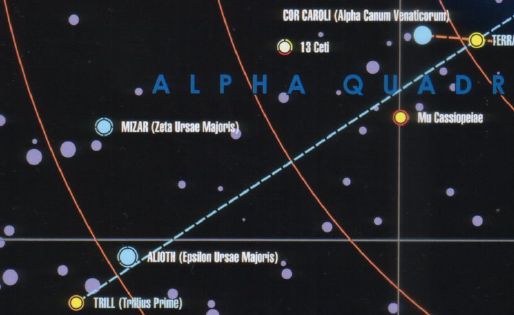 No higher resolution available.
Location of Mizar, namesake of the Mizar sector, on a map with neighboring regions, located in the Alpha Quadrant, around 2151. (ST reference: Star Charts)
Locations
Edit
13 Ceti • Alioth (Epsilon Ursae Majoris) • Cor Caroli (Alpha Canum Venaticorum) • Mizar (Zeta Ursae Majoris) • Mu Cassiopeiae • Trill (Trillius Prime)
Appears on these pages

of
Mizar, also known as Zeta Ursae Majoris, was a quinary star system, located in the Mizar sector...

The Mizar sector was a region of space in the galaxy's Alpha Quadrant. It was named for the...

The complete atlas of Star Trek—Star Charts is the cartographer's guide to the Star Trek...
File history
Click on a date/time to view the file as it appeared at that time.