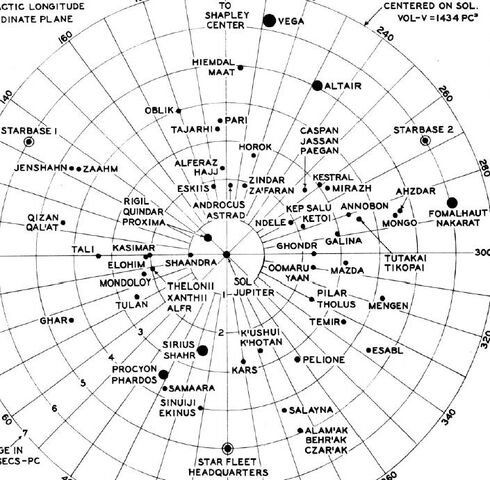 Star chart of stars near Sol. (ST reference: Star Fleet Technical Manual)
Sol (with Jupiter) • Rigil Kentaurus system (Rigil, Quindar, Proxima) • Shaandra • Androcus (with Astrad) • Zindar system (Zindar, Za'faran) • Eskiis • Kasimar • Thelonii system (Thelonii, Xanthii, Alfr) • Ndele • Alferaz (Alferaz A, Hajj) • Elohim • Mondoloy • Tulan • Sirius (Sirius A, Shahr) • Kars • K'ushui system (K'ushui, K'hotan) • Pilar system (Pilar (star), Tholus) • Oomaru system (Oomaru, Yaan) • Ghondr • Galina • Kep Salu system (Kep Salu, Ketoi) • Caspan system (Caspan, Jassan, Paegan) • Horok • Pari • Tajarhi • Oblik • Tali • Procyon (Procyon A, Phardos) • Samaara • Sinuiji system (Sinuiji, Ekinus) • Pelione • Temir • Mazda • Tutakai system (Tutakai, Tikopai) • Annobon • Mirazh • Kestral • Hiemdal system (Hiemdal, Maat) • Jenshahn • Zaahm • Qizan Qal'at (Qizan, Qal'at) • Ghar • Salayna • Alam'ak system (Alam'ak, Behr'ak, Czar'ak) • Starfleet Headquarters • Esabl • Mengen • Mongo • Ahzdar • Starbase 1 • Fomalhaut (with Nakarat) • Starbase 2 • Altair • Vega
Licensing
Edit
Appears on these pages

of
Ahzdar was a star with an associated star system, that was located a number of parsecs away from...

Alpha Andromedae (also known as Delta Pegasi or the Alferaz system) is a star system that was...

Altair (also known as Alpha Aquilae, Atair, or 53 Aquilae) is a star with an associated star...
See full list >
File history
Click on a date/time to view the file as it appeared at that time.
Ad blocker interference detected!
Wikia is a free-to-use site that makes money from advertising. We have a modified experience for viewers using ad blockers

Wikia is not accessible if you've made further modifications. Remove the custom ad blocker rule(s) and the page will load as expected.