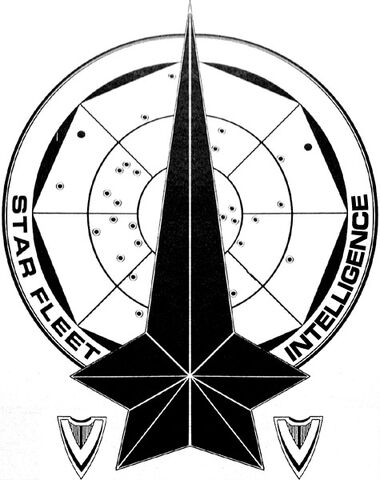 Starfleet Intelligence logo. (FASA RPG module: Star Fleet Intelligence Manual)
This image was created by CaptainMKB (the author), based on FASA RPG images.

This supplemental image has been approved for use on Memory Beta. The image has been created as an original work that is freely licensed for non-commercial use.

This image should not be copied or redistributed in any way without credit being given to the author exactly as stated in this message. This image should not be altered for redisplay in any way without the permission of the author.

Some subject matter is copyrighted or under license from CBS Paramount Television and/or Paramount Pictures (and/or their past or present licensees). Its use here as a non-commercial derivative work is contended to be consistent with fair use rules under United States copyright law.

No permission is given or implied to reuse or alter this image for commercial use.
Appears on these pages

of
Adamm Stone was a 23rd century Starfleet officer, a lieutenant commander assigned to Starfleet...

Antonia M. Niccomachi was a female Human Starfleet officer who served during the 23rd century...

Arlen Glover was a 23rd century Human man, a Starfleet officer who, in the 2280s decade, was a...
See full list >
File history
Click on a date/time to view the file as it appeared at that time.
Metadata
Ad blocker interference detected!
Wikia is a free-to-use site that makes money from advertising. We have a modified experience for viewers using ad blockers

Wikia is not accessible if you've made further modifications. Remove the custom ad blocker rule(s) and the page will load as expected.