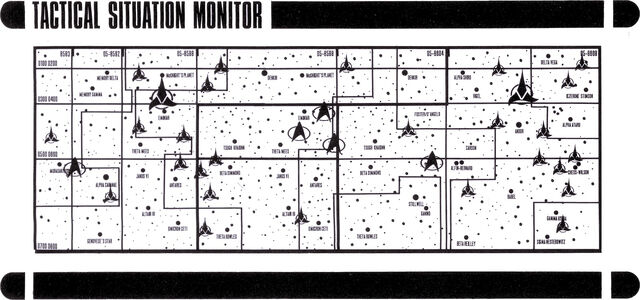 Tactical situation monitor viewscreen. (TNG reference: The Continuing Mission reprint of artwork used onscreen)
Locations
Edit
Alfin-Bernard • Alpha Ataru • Alpha Caranae • Alpha Shiro • Altair III • Andor • Antares • Beta Reilley • Beta Simmons • Carson • Chess-Wilson • Delta Vega • Denkir system • Eminiar • Foster-D'Angelo • Gamma Hydra • Ganino • Genovese's Star • Iczerone Stimson • Janus VI • McKnight's Planet • Memory Delta • Memory Gamma • Murasaki 312 • Omicron Ceti • Rigel • Sigma Nesterowicz • Stillwell • Theta Bowles • Theta Mees • Tsugh Khaidnn
For reasons unknown in the format of the display, Theta Mees, Janus VI, Altair III, Omicron Ceti, Theta Bowles, Antares, Beta Simmons, Tsugh Khaidnn, Denkir, Eminiar and McKnight's Planet are all listed twice in the center of the display.
Appears on these pages

of
Altair (also known as Alpha Aquilae, Atair, or 53 Aquilae) is a star with an associated star...

Altair III was a planet, the third planet of the Altair star system located inside Federation...

Antares (or Alpha Scorpii) is a binary star system located in the Antares sector of the Beta...
See full list >
File history
Click on a date/time to view the file as it appeared at that time.
Ad blocker interference detected!
Wikia is a free-to-use site that makes money from advertising. We have a modified experience for viewers using ad blockers

Wikia is not accessible if you've made further modifications. Remove the custom ad blocker rule(s) and the page will load as expected.