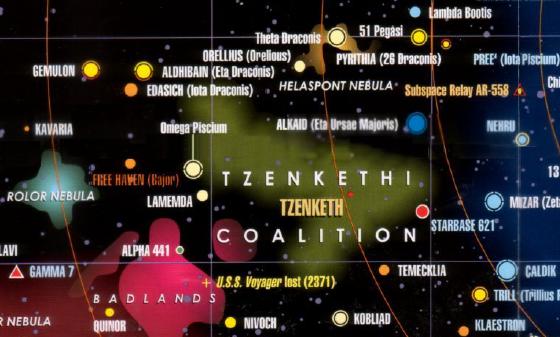 No higher resolution available.
Star chart of the vicinity around the Tzenkethi Coalition. (ST reference: Star Charts)
Locations
Edit
Gemulon • Kavaria • Rolor Nebula • Gamma 7 • Quinor • Badlands • Alpha 441 • Nivoch • Lamemda • Free Haven • Omega Piscium • Edasich (Iota Draconis) • Aldhibain (Eta Draconis) • Orellius (Orelious) • Theta Draconis • Helaspont Nebula • Alkaid (Eta Ursae Majoris) • Tzenkethi Coalition • Tzenketh system • Kobliad • Temecklia • Starbase 621 • Subspace Relay AR-558 • Pyrithia (26 Draconis) • 51 Pegasi • Lambda Boötis • Pree' (Iota Piscium) • Nehru • Mizar • Caldik • Trillius Prime • Klaestron
Appears on these pages

of
Gemulon is a star system, a trinary star located in the space of the galaxy's Alpha Quadrant...

Omega Piscium is a star system, a trinary star in the galaxy's Alpha Quadrant. This trinary...

The complete atlas of Star Trek—Star Charts is the cartographer's guide to the Star Trek...
See full list >
File history
Click on a date/time to view the file as it appeared at that time.
Ad blocker interference detected!
Wikia is a free-to-use site that makes money from advertising. We have a modified experience for viewers using ad blockers

Wikia is not accessible if you've made further modifications. Remove the custom ad blocker rule(s) and the page will load as expected.