Ad blocker interference detected!
Wikia is a free-to-use site that makes money from advertising. We have a modified experience for viewers using ad blockers

Wikia is not accessible if you've made further modifications. Remove the custom ad blocker rule(s) and the page will load as expected.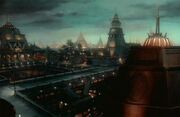 The First City (Klingonese: veng wa'DIch) was a municipality on Qo'noS near the Qam-Chee River, and the capital city of the Klingon Empire.
It was founded thousands of years ago, before the time of Kahless the Unforgettable, as a fortress on a highly defensible mountain range, with the Great Hall as its only structure. (DS9 - The Left Hand of Destiny novel: ) Once Kahless united the Klingons, it became the planet's seat of power, though it was not until the reign of Emperor Sompek that it became a true city. (KE novel: A Burning House)
The architecture of the First City was originally dictated by the need for defense against aerial attack, leading to pyramidal designs and high spires. Other styles were used in following centuries; however, in the aftermath of the destruction of Praxis, Chancellor Azetbur decreed that all rebuilding in the First city should follow the design of the Great Hall and other structures of Sompek's era. (KE novel: A Burning House)
The city has come under attack several times over the years. In 2368, it was attacked by forces loyal to the House of Duras during the Klingon Civil War. (TNG episodes: "Sins of the Father", "Redemption, Part I") In 2376, it came under attack from forces loyal to Morjod, son of Martok during his attempted coup. (DS9 - The Left Hand of Destiny novel: Book One) Much of the First City - including the Great Hall - was destroyed by the Borg during their 2381 attack on Qo'noS. The destruction of the Great Hall led Martok to claim he was the only chancellor to have the Great Hall destroyed twice. (ST - Destiny novel: Lost Souls)
Notable sites
Edit
Connections
Edit
Capital Planets and Cities
Khitomer Accords Alliance
Cardassia City, Cardassia (Cardassian Union) • Ferenginar (Ferengi Alliance) • First City, Qo'noS (Klingon Empire) • Paris, Earth (United Federation of Planets)
Typhon Pact
Ansirranana, Breen (Breen Confederacy) • Gornar (Gorn Hegemony) • Ki Baratan, Romulus (Romulan Star Empire) • Rashtag, Janalwa (Holy Order of the Kinshaya) • Tholia (Tholian Assembly) • Tzenketh, Ab-Tzenketh (Tzenkethi Coalition)
Non-Aligned States
Dinaal City (Dinaal) • Guwine, Venette (Venette Convention) • Keelee-Kee, Tezwa • L'hur (Sikarian Canon) • Me'leit, Talar (Talarian Republic) • New Founder Homeworld (Dominion) • New Romulus (Romulan Republic) • Nova Roma, Rator III (Romulan Star Empire, post-Hobus) • Rexlar-D, Dosi (Dosi Confederation)
Mirror Universe States
Deneva (Galactic Commonwealth) • Okinawa, Earth (Terran Empire) • Okinawa, Earth (Terran Republic)
Federation Member States
Ares City (Confederated Martian Colonies) • Ashalla (Republic of Bajor) • Iaron (Damiano) • Leran Manev (Trill) • Lor'Vela (Andorian Empire) • New Coridan (People's Republic of Coridan) • New Samarkand (Alpha Centauri Concordium) • Nuvia (Risian Hedony) • Pike City (Cestus III) • San Francisco (United Earth) • ShiKahr (Confederacy of Vulcan) • Stratos (Ardana) • Zhelnogra (Tenara)
Federation Member State Subdivisions & Colonies

Eau Claire (Belle Terre) • London (United Kingdom, United Earth) • Madrid (Spain, United Earth) • New Burbank (Rigel VI, United Rigel Colonies) • New Rakantha (New Bajor, Republic of Bajor) • Oslo (Norway, United Earth) • Port Emily (Sherman's Planet) • Rigel Trade Complex (Rigel X, United Rigel Colonies) • Washington, DC (United States, United Earth) •

Interstellar State Subdivisions
Ka'Hat (Sherman's Planet, Klingon Empire) • Kecemen (Karemma Foundation, Dominion)
Defunct Interstellar States
Achernar Prime (Imperial Romulan State) • Unimatrix 01 (Borg Collective)