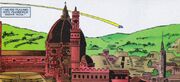 Florence (or Firenze in Italian) is a city on Earth, located in the nation state of Italy. The city was the capital of the Tuscany region of Italy, located on the banks of the Arno River in north-central Italy. The city is regarded as the birthplace of the Renaissance on Earth.
The human painter and scientist Leonardo da Vinci lived in Florence for a number of years. Centuries later, a holographic recreation of Da Vinci expressed a desire to Kathryn Janeway to leave the city. (VOY episode: "Concerning Flight")
After surviving an attack by the Chakuun, Gabrielle Carlotti and her surviving brothers came to live with their Aunt Olivia in Florence. (EV comics: "Flesh of My Flesh", "The Fallen")
Connections
Edit
External links
Edit
Ad blocker interference detected!
Wikia is a free-to-use site that makes money from advertising. We have a modified experience for viewers using ad blockers

Wikia is not accessible if you've made further modifications. Remove the custom ad blocker rule(s) and the page will load as expected.