Publisher's description
Edit
From solicitations

As the temperature rises aboard Deep Space Nine, Captain Sisko, Kira and Odo come closer to getting to the bottom of the mystery. Can Sisko calm the volatile situation and restore order before another riot breaks out? And what does Garak have to do with all that has transpired?
This article or section is incomplete
This article is marked as lacking essential detail, and needs attention. Information regarding expansion requirements may be found on the article's talk page. Feel free to edit this page to assist with this expansion.
References
Edit
Characters
Edit
Elim Garak • Kira Nerys • Miles O'Brien • Odo • Quark • Benjamin Sisko
Locations
Edit
Starships and vehicles
Edit
Races and cultures
Edit
Bajoran • Cardassian • Changeling • Human • Triexian
States and organizations
Edit
Other references
Edit
Appendices
Edit
Background
Edit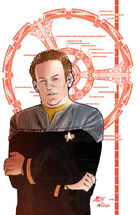 This issue was released in three covers: Two regular covers, by The Sharp Brothers and David Messina, and a third retail incentive cover, a virgin edition of the Messina cover.
Related stories
Edit
External link
Edit
Ad blocker interference detected!
Wikia is a free-to-use site that makes money from advertising. We have a modified experience for viewers using ad blockers

Wikia is not accessible if you've made further modifications. Remove the custom ad blocker rule(s) and the page will load as expected.