Ad blocker interference detected!
Wikia is a free-to-use site that makes money from advertising. We have a modified experience for viewers using ad blockers

Wikia is not accessible if you've made further modifications. Remove the custom ad blocker rule(s) and the page will load as expected.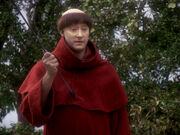 Friar Tuck was a mythological Human who lived in the 12th and 13th centuries on Earth. A companion of Robin Hood, he was part of Robin Hood's band of Merry Men.
When Q forced the senior officers of the USS Enterprise-D to participate in a recreation of Sherwood Forest, Lieutenant Commander Data played the role of Friar Tuck. (TNG episode: "Qpid")
The Robin Hood stories also existed in the mirror universe. (ENT - Mirror Universe short story: "Nobunaga")
External links
Edit