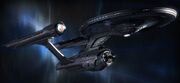 Gabriel Koerner is a visual effects artist who worked on Star Trek: Enterprise and contributed the image "Plenty of Letters" to the 2007 Ships of the Line calendar. Koerner's Ships of the Line image, a re-designed version of the Constitution-class, was later reprinted in the Ships of the Line book. Years later, for the 2015 Ships of the Line calendar, he contributed the image "Leif Ericson".
Bibliography
Edit
Connections
Edit
Ad blocker interference detected!
Wikia is a free-to-use site that makes money from advertising. We have a modified experience for viewers using ad blockers

Wikia is not accessible if you've made further modifications. Remove the custom ad blocker rule(s) and the page will load as expected.