For other uses, see Galileo.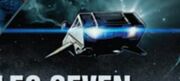 In an alternate reality, the Galileo (NCC-1701/7) was a Starfleet shuttlecraft assigned to the Federation starship USS Enterprise. In this reality, Galileo was a standard shuttle of the time assigned to Enterprise in the year 2258. (TOS - The Galileo Seven comics: "Part 1", "Part 2")
The Galileo was used by James T. Kirk, Spock, and Hikaru Sulu to travel to Helios-1 to investigate a distress call. Later, a Gorn officer who had been brought aboard the Enterprise would later attempt to hijack the shuttle from the bay to escape back to his own ship. Following this being prevented, the shuttle would crash on a Gorn world but was repaired and recovered. It was used to transport an away team back to the ship to recover it following a Gorn invasion. It was remote piloted into the Enterprise bridge module in an effort to rescue Nyota Uhura. (TOS video game: Star Trek)
Connections
Edit
Ad blocker interference detected!
Wikia is a free-to-use site that makes money from advertising. We have a modified experience for viewers using ad blockers

Wikia is not accessible if you've made further modifications. Remove the custom ad blocker rule(s) and the page will load as expected.