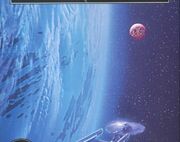 Gamma Night was an energy phenonemon in the region around Belle Terre.
History and specifics
Edit
During Gamma Night, sophisticated sensor technology was rendered almost useless by the heavy sleet of gamma radiation washing through space from a nearby neutron star for 20 hours at a time. (TOS - New Earth novel: Wagon Train to the Stars)
Appendices
Edit
References
Edit
Ad blocker interference detected!
Wikia is a free-to-use site that makes money from advertising. We have a modified experience for viewers using ad blockers

Wikia is not accessible if you've made further modifications. Remove the custom ad blocker rule(s) and the page will load as expected.