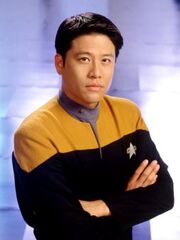 Garrett Richard Wang (born 15 December, 1968) is an American actor. Wang is best known for portraying Ensign Harry Kim on Star Trek: Voyager from 1995 to 2001, also lending his voice talents for the video game Star Trek Voyager: Elite Force, in which he returned to his famous role. Also, in 2007, Wang portrayed Garan in the fan fiction film Star Trek: Of Gods and Men.
He reprised the role of Harry Kim again in 2014 for Star Trek Online: Delta Rising.
This article is a stub relating to an author, illustrator or other publishing production information. You can help our database by expanding on it.
External link
Edit