For other uses, see Gleason.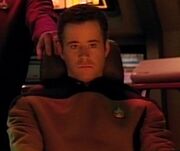 Gleason was a male Human lieutenant working in the operations division of the USS Enterprise-D in 2367. During a battle with the Borg in the beginning of the year, he staffed the ops console on the battle bridge of the Enterprise. Some time later, he staffed a science station on the main bridge while the ship orbited Alpha Onias III. He detected subspace fluctuations, and interpreted them as Romulan in origin. (TNG episodes: "The Best of Both Worlds", "Future Imperfect")
Gleason was portrayed by Todd Merrill.
Connections
Edit
Ad blocker interference detected!
Wikia is a free-to-use site that makes money from advertising. We have a modified experience for viewers using ad blockers

Wikia is not accessible if you've made further modifications. Remove the custom ad blocker rule(s) and the page will load as expected.