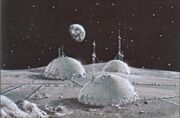 Goddard Moonbase was a research installation on the surface of Luna, constructed on reference stardate -1/98. One of the first large-scale international space projects, it initially provided facilities for space research and industry, and accommodations for seventy. It underwent the first of a series of expansions on stardate 0/04. (TOS reference: Spaceflight Chronology)
In 2028, Goddard Moonbase played host to a professional-level tennis tournament. Melody Sawyer was the second-seeded player in the semifinals of this competition. (TOS novel: Strangers from the Sky)
In Spaceflight Chronology, the years of 1998 and 2004 were used as the dates of the construction and expansion, respectively. Since real world colonization of space has not occurred as speculated in that volume, the dates here have been converted to reference dates to present the contradiction in an ambiguous manner.
Connections
Edit
Ad blocker interference detected!
Wikia is a free-to-use site that makes money from advertising. We have a modified experience for viewers using ad blockers

Wikia is not accessible if you've made further modifications. Remove the custom ad blocker rule(s) and the page will load as expected.