Gora bim Gral
Talk

0
43,615pages on
this wiki
For his Mirror Universe counterpart, see: Gral (mirror).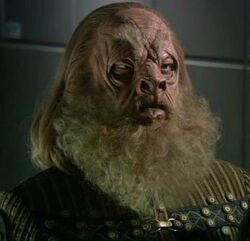 Gora bim Gral was a prominent Tellarite ambassador in the mid-22nd century.
In 2154, Ambassador Gral travelled aboard the United Earth starship Enterprise NX-01 to an emergency confrence with the Andorian government to stave off a war between the Andorian Empire and Tellar. It was later revealed that the attacks precipitating this conflict were inflicted by masquerading Romulan starships, and Ambassador Gral and Andorian Imperial Guard Commander Hravishran th'Zoarhi of the warship Kumari later joined in United Earth Starfleet Captain Jonathan Archer's first multilateral military operation between United Earth, the Confederacy of Vulcan, the Andorian Empire, and Tellar in order to root out the Romulan ships. (ENT episodes: "Babel One", "United", "The Aenar")
Gora bim Gral was later a key Tellarite emissary at United Earth Prime Minister Nathan Samuels' negotiations to forge the Coalition of Planets, a mutual defense alliance that later helped lead to the formation of the United Federation of Planets. Gral was amongst the signatories of the Coalition Compact in early 2155. (ENT novel: The Good That Men Do) He was the lead Tellarite representative to the Coalition of Planets, and was later amongst the signatories of the Articles of the Federation in 2161. (ENT novels: Kobayashi Maru, Last Full Measure)
In late 2155, Gral remained on Earth and represented Tellar on the Coalition Security Council. He was outraged by Vulcan's refusal to participate in the Earth-Romulan War, but later came to understand the decision. Eventually, he and Ambassador Thoris of Andor were forced to announce that their worlds would be making the same decision. In ordr to help Earth in its war, both Gral and Thoris shared highly classified information with Earth's scientists. (ENT novel: Beneath the Raptor's Wing)
Ambassador Gral first appeared in "Babel One." His full Tellarite name was established in The Good That Men Do.
External link
Edit