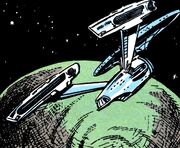 Goran IV was a planet in or near Federation space in the Alpha or Beta Quadrant. Goran IV was the fourth planet in the Goran system, and was home to a pre-industrial humanoid civilization, with a population of approximately 1.1 billion. A probe used to monitor the Klingon Neutral Zone crashed on the planet at some point prior to stardate 8124.5, releasing toxic gas into the atmosphere. (TOS comic: "The Long Night's Dawn!")
Ad blocker interference detected!
Wikia is a free-to-use site that makes money from advertising. We have a modified experience for viewers using ad blockers

Wikia is not accessible if you've made further modifications. Remove the custom ad blocker rule(s) and the page will load as expected.