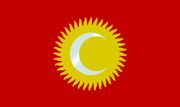 The Great Khanate was a government on the planet Earth and was led by the Augments during the Eugenics Wars of the 20th century. The Battle of the Sea of Japan was a turning point in the Eugenics Wars, which broke the power of Khan Noonien Singh and the Great Khanate. This led to a shattering of the Khanate, which splintered into dozens of factions that began fighting one another, allowing the other governments to hunt down their leaders, thus ending the conflict. The destruction of the Great Khanate started the process of Earth's unification as well as the abolition of war. (TNG novel: Debtors' Planet)
This article is a stub relating to a group or organization. You can help our database by expanding on it.
Ad blocker interference detected!
Wikia is a free-to-use site that makes money from advertising. We have a modified experience for viewers using ad blockers

Wikia is not accessible if you've made further modifications. Remove the custom ad blocker rule(s) and the page will load as expected.