For other uses, see Guardian.
The Guardian-class was a type of cruiser deployed by the Federation Starfleet in the early 25th century. (STO website: Dev Blogs; STO video game: Delta Rising)
The Guardian-class entered service in 2410. (STO video game: Delta Rising)
Technical data
Edit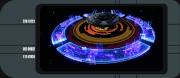 Like the Phantom-, Eclipse-, Scryer-, and Dauntless-classes, the Guardian-class featured special accomodations for an intelligence officer. In addition to normal defenses it featured a particle conversion matrix device, capable of absorbing incoming weapons fire and diverting the energy to its own weapons. (STO website: Tier 6 Starships - Guardian Cruiser)
Known vessels
Edit
Appendices
Edit
References
Edit
↑ 2.0 2.1 2.2 STO video game: Star Trek Online's Foundry.
Connections
Edit
External links
Edit
Ad blocker interference detected!
Wikia is a free-to-use site that makes money from advertising. We have a modified experience for viewers using ad blockers

Wikia is not accessible if you've made further modifications. Remove the custom ad blocker rule(s) and the page will load as expected.