For the mirror universe counterpart, see HMS Enterprize (mirror).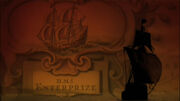 HMS Enterprise (or HMS Enterprise) was a ship of the British Royal Navy. It was built as a French frigate, originally named L'Entreprize, and was seized by the British in 1705 and rechristened HMS Enterprise. The ship was wrecked in 1707.
The name (with the standardized spelling "Enterprise") was subsequently passed through history to a number of celebrated ocean- and space-going vessels. (TNG movie: Star Trek Generations)
The opening credits of Star Trek: Enterprise features an image of a chart from the HMS Enterprize, as well as filmed footage of a sailing ship presumably intended as the same vessel. Of the real-life ships named HMS Enterprise, only the first roughly corresponds to the vessel depicted onscreen.
Appendices
Edit
Connections
Edit
External links
Edit
Ad blocker interference detected!
Wikia is a free-to-use site that makes money from advertising. We have a modified experience for viewers using ad blockers

Wikia is not accessible if you've made further modifications. Remove the custom ad blocker rule(s) and the page will load as expected.