The Ha'feh-class assault warbird was a class of starship in use by the Romulan Republic in the early 25th century. (ST video game: Star Trek Online)
The Ha'feh-class was developed in tandem with the Ha'apax-class battlecruiser and Ha'nom-class science vessel. (ST video game: Star Trek Online)
Mirror universe
Edit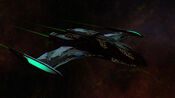 This class was also used by an unknown
Romulan
state in the
mirror universe
. In
2409
, around the time of the discovery of the
Solanae
Dyson sphere
, the
Romulan Republic
captured a number of these vessels and incorporated them into the
Romulan Republican Force
. This version featured improved science capabilities over the
prime universe
iteration. (
ST
video game
:
Star Trek Online
[Season 8])
Technical data
Edit
The Ha'feh-class was smaller and less heavily defended than the Ha'apax and Ha'nom-classes, but in exchange had increased agility and firepower. It featured a standard Romulan cloaking device. (ST video game: Star Trek Online)
Appendices
Edit
Connections
Edit
External links
Edit
Ad blocker interference detected!
Wikia is a free-to-use site that makes money from advertising. We have a modified experience for viewers using ad blockers

Wikia is not accessible if you've made further modifications. Remove the custom ad blocker rule(s) and the page will load as expected.