Ad blocker interference detected!
Wikia is a free-to-use site that makes money from advertising. We have a modified experience for viewers using ad blockers

Wikia is not accessible if you've made further modifications. Remove the custom ad blocker rule(s) and the page will load as expected.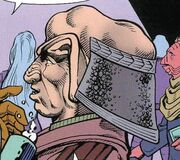 A headskirt is a Ferengi article of clothing worn across the back of the skull and neck, from ear to ear.
Quark's father, Keldar, collected novelty headskirts commemorating great disasters throughout Ferenginar history. He left these to Quark in his Legacy Chest following his death, despite knowing Quark never wore headskirts.
Among the most highly valued novelty headskirts were those created during and shortly after the Ferengi-Lytasian conflict.
"You're so ugly, you have to wear your headskirt in front of your face" is considered one of the top ten insults in Ferengi history. (DS9 reference: Legends of the Ferengi)