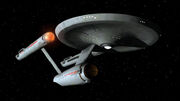 The term heavy cruiser is a starship classification that is applied to large multi-purpose cruiser starships, and are similar in many regards to explorers.
In the 22nd and 23rd centuries, the term was used synonymously with battlecruiser. For example, the Klingons referred to the Enterprise (NX-01) and the USS Enterprise as battlecruisers, although Starfleet classified them as heavy cruisers. (ENT episode: "Judgment", TOS movie: The Search for Spock)
Types of heavy cruisers
Edit
Appendices
Edit
Connections
Edit
External links
Edit
Ad blocker interference detected!
Wikia is a free-to-use site that makes money from advertising. We have a modified experience for viewers using ad blockers

Wikia is not accessible if you've made further modifications. Remove the custom ad blocker rule(s) and the page will load as expected.