Ad blocker interference detected!
Wikia is a free-to-use site that makes money from advertising. We have a modified experience for viewers using ad blockers

Wikia is not accessible if you've made further modifications. Remove the custom ad blocker rule(s) and the page will load as expected.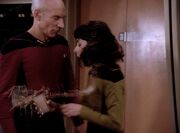 Hot chocolate (or hot cocoa) was a beverage made with chocolate, and served heated.
Ensign Sonya Gomez accidentally spilled hot chocolate on Captain Jean-Luc Picard near the beginning of her tour on the USS Enterprise-D. (TNG episode: "Q Who?")
Following this incident, Gomez was given the nickname "Ensign Hot Chocolate" (later shortened to "HC") by her crewmates. (SCE eBook: Many Splendors)
While traveling on the shuttlecraft Jefferies, Doctor Beverly Crusher and Deanna Troi enjoyed two cups of hot chocolate while traveling back to the USS Enterprise-E. (TNG novel: A Time to Harvest)
External links
Edit