Ad blocker interference detected!
Wikia is a free-to-use site that makes money from advertising. We have a modified experience for viewers using ad blockers

Wikia is not accessible if you've made further modifications. Remove the custom ad blocker rule(s) and the page will load as expected.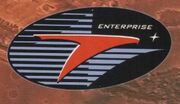 The
IXS Enterprise
(IXS-110)
was a
starship
concept created in
2013
for an interstellar mission in the late-
21st century
. It was based on the research into the generation of a microscopic
warp bubble
by a team of
scientists
led by
Doctor
Harold White
at the
Johnson Space Center
in
Texas
.
An artist's impression, by Mark Rademaker, portrayed a theoretical twin-ringed Enterprise departing Mars orbit following a succesful test run from Earth which took only one minute twenty-five seconds. (Ships of the Line 2014)