Ad blocker interference detected!
Wikia is a free-to-use site that makes money from advertising. We have a modified experience for viewers using ad blockers

Wikia is not accessible if you've made further modifications. Remove the custom ad blocker rule(s) and the page will load as expected.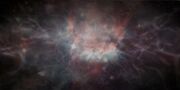 An inversion nebula was a type of nebula composed of unstable plasma strands. These strands would ignite, starting a chain reaction that burned out the nebula in only a few years. (VOY episode: "Alter Ego")
Marayna's nebula was a centuries old inversion nebula inside the Nekrit Expanse in the galaxy's Delta Quadrant. This nebula was artificially prevented from burning out with the help of a dampening field projected from a cloaked space station operated by Marayna. (VOY episode: "Alter Ego")
As of 2371, no inversion nebula had been observed in the Alpha Quadrant but Federation scientists had inferred their existence based on theories. In the year 2373, on stardate 40460.3, the Federation starship USS Voyager visited Marayna's nebula and found the unusual dampening field preventing the nebula's plasma strands from igniting the inversion nebula in a chain reaction. (VOY episode: "Alter Ego")
Appendices
Edit
Connections
Edit
External links
Edit
Inversion nebula article at Memory Alpha, the wiki for canon Star Trek.