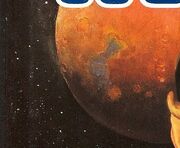 Ishaya was a location on the planet Vulcan.
History and specifics
Edit
Sometime before the Vulcan Reformation, a young Surak was winded by his long run from the mountain village and his tortured progress through the battlefields of Ishaya. It was there he witnessed the dead bodies of his brothers such as Surell and was hearing the final words of his dying father Stef. On the Ishaya plains, Surak was given the Ko N'ya stone but instead gave it to Garamond as he had believed the stone to be cursed. (TNG novel: The Devil's Heart)
Appendices
Edit
Connections
Edit
References
Edit
Ad blocker interference detected!
Wikia is a free-to-use site that makes money from advertising. We have a modified experience for viewers using ad blockers

Wikia is not accessible if you've made further modifications. Remove the custom ad blocker rule(s) and the page will load as expected.