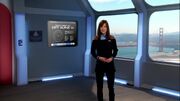 The James T. Kirk Lecture Hall was a facility at Starfleet Academy in San Francisco on planet Earth. It overlooked the Golden Gate and the Golden Gate Bridge.
In the late 24th century, some time after the year 2379, the hall was used to deliver the Starfleet Academy SCISEC Briefs by a Starfleet Science Officer. (Starfleet Academy SCISEC Briefs episodes)
Ad blocker interference detected!
Wikia is a free-to-use site that makes money from advertising. We have a modified experience for viewers using ad blockers

Wikia is not accessible if you've made further modifications. Remove the custom ad blocker rule(s) and the page will load as expected.