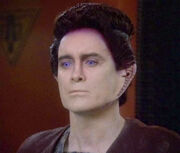 Jeffrey Combs is an actor, best known to Star Trek fans for his recurring roles of Weyoun, Thy'lek Shran and Brunt in Star Trek: Deep Space Nine and Star Trek: Enterprise. He also played Tiron, Kevin Mulkahey, Brunt, Penk, and Krem.
Combs reprised his role as Weyoun in Dominion Wars and also voiced Commander Suldok in Star Trek: Elite Force II.
External links
Edit
Ad blocker interference detected!
Wikia is a free-to-use site that makes money from advertising. We have a modified experience for viewers using ad blockers

Wikia is not accessible if you've made further modifications. Remove the custom ad blocker rule(s) and the page will load as expected.