Ad blocker interference detected!
Wikia is a free-to-use site that makes money from advertising. We have a modified experience for viewers using ad blockers

Wikia is not accessible if you've made further modifications. Remove the custom ad blocker rule(s) and the page will load as expected.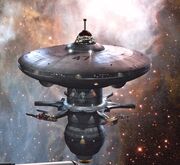 Jetanien was a Rigellian Chelon who served as a senior Federation diplomat in the 23rd century. Known as a wise and learned statesman, he was assigned in 2265 to Starbase 47, where he supervised a staff of envoys, attaches and aides to deal with diplomatic issues within the Taurus Reach.
While he had a wry sense of humor, particularly about the unpredictability of diplomatic matters, he was also a powerful orator and tough negotiator. He has a leathery dark green hide and is especially partial to Denebian shellfish broth. (VAN novel: Harbinger)
Jetanien spent much of 2267 away from Vanguard on Nimbus III, where he was attempting to draw Klingon and Romulan delegates together for multilateral talks. His efforts to hold a conference were finally successful in September of that year when Senator D'Tran of the Romulan Star Empire joined Jetanien and Klingon Ambassador Lugok on the surface. (VAN novel: Precipice)