Ad blocker interference detected!
Wikia is a free-to-use site that makes money from advertising. We have a modified experience for viewers using ad blockers

Wikia is not accessible if you've made further modifications. Remove the custom ad blocker rule(s) and the page will load as expected.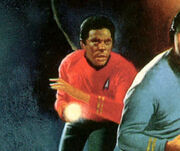 Jonathon M. Stanger was a human Starfleet security officer who served aboard the USS Enterprise in the 2260s.
Biography
Edit
Stanger had served as chief of security onboard the USS Columbia, and held the rank of lieutenant. His service record was considered outstanding, and he was admired and respected by superiors and subordinates alike; his psychological profile indicated command material. However, Stanger was court-martialed after a burning phaser fell from his pack and discharged in the mess hall, right in full view of the first officer. In light of his otherwise unblemished service record, he was allowed to remain in the Fleet with a demotion to ensign, which he did not contest. The contraband weapon had belonged to his subordinate officer and romantic partner, Rosa, who was involved in illegal weapon smuggling. Stanger had accepted the demotion in the vain hope that Rosa would step forward and accept responsibility, but she had transferred to another ship. After waiting for an assignment onboard any ship that would take him, Stanger was assigned to the Enterprise after Captain James T. Kirk examined his record.
Stanger would serve under the command of Lieutenant Ingrit Tomson, the Enterprise chief of security. One of his first missions was to accompany Dr. Leonard McCoy to the surface of Tanis, to answer a medical distress call from a Starfleet research facility there, and the rescue of Dr. Jeffrey Adams. Stanger found it difficult to work on the Enterprise, some wondering how he was only an ensign at his age; for instance, he kept referring to one, an Andorian named Lamia, by her rank of ensign, and by Tomson's lack of trust in his ability (motivated partly by his reputation, and partly by the loss of her previous deputy). Despite nearly dying to the plague carried (and created) by Dr. Adams, Stanger eventually settled in on his new ship; after the conclusion of the Tanis incident, he was promoted to lieutenant, junior grade and made Tomson's deputy. (TOS novel: Bloodthirst)
By 2270, when the Enterprise returned to Earth, Tomson had Stanger promoted back to full lieutenant and recommended that he be assigned as chief of security aboard the USS Victorious. Stanger accepted, despite having to be separated from Lamia. (TOS - The Lost Years novel: The Lost Years)
Connections
Edit