Ad blocker interference detected!
Wikia is a free-to-use site that makes money from advertising. We have a modified experience for viewers using ad blockers

Wikia is not accessible if you've made further modifications. Remove the custom ad blocker rule(s) and the page will load as expected.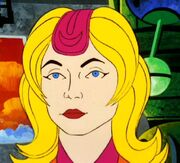 Karla Five was a female from the planet Arret that was encountered by the USS Enterprise in 2269, when they entered an antimatter universe. She also had a son named Karl Four.
In 2269, Karla Five and her ship had accidentally crossed into our universe after encountering a supernova. (TAS episode: "The Counter-Clock Incident")
External link
Edit